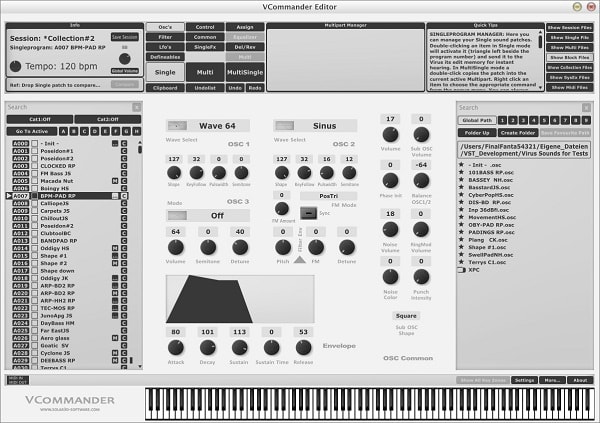 solar3d-software VCommander v4.0.4 Win X86 X64 VST Standalone
Size 14.6 Mb
VCommander, a MIDI editor and librarian for Access Music's synthesizer product line Virus (Type A-C) has finally made it to version 4, available for Windows and Mac and can run as standalone or as VST/AU plugin. Among the known feature set of the previous version 3, we've spend some more useful functions like batch processing, full Vocoder support, Solo-Mode and many more.
These are the most important features:
Runs as VST/AU-plugin or standalone.
Support for Windows (32/64-bit) and Mac OS X (32/64-bit Universal Binary) from 10.6.
Comment or bookmark Sound patches.
Two types of edit state indicators for Sound patches.
Easy creation of Multi patches (Drag&Drop).
Copy Parameter blocks (i.e. copying the filter block from Single patch A000 into patch A010 or copying the effect from one Single patch into another or even into a Multi patch).
Drag&Drop support.
Unlimited, patch related Undo/Redo.
Unlimited Undo/Redo for incoming MIDI messages if you directly tweak the hardware knobs or buttons.
Real envelopes for Amplifier, Filter and Vocoder.
Search patches by name.
Browse for categories.
Jump to banks.
Intelligent dependency check for Multi patches and their associated Singles.
Single patch compare-mode.
Find and bookmark Single doubles.
Search & Re-link Multiparts.
MIDI meter for all Multiparts.
Global MIDI meter.
3351 automatable parameter.
SOLO mode (Multi-mode).
Built-in MIDI Clock generator (Experimental feature, available only in plugin).
Built-in MIDI Time-code generator (Experimental feature, available only in plugin).
Feedback detection for all physical MIDI devices.
Complete support for A, B, C, Classic, RackXL etc.
Instant access to tempo and main volume.
Hardware (Virus) auto-configuration to work with VCommander.
Full Vocoder support.
Favorite file folder for easy and quick file access.
Undo list for easy navigation through all Undo records.
On-Screen keyboard with key zone support.
Oscillator/Modulator waveform pictures.